Zuma Payroll & Processing Appoints David Tomaiko Vice President of Construction Division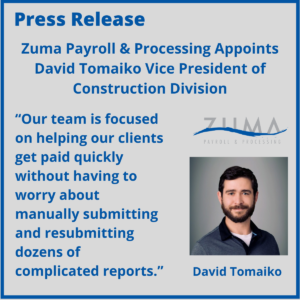 Zuma Payroll & Processing Appoints David Tomaiko Vice President of Construction Division
Tomaiko to lead growing division focused on solving union payroll reporting challenges within the construction industry  
Melville, New York - April 25, 2022 - Zuma Payroll & Processing ("Zuma"), a leading union payroll, processing, and talent management software provider, today announced that David Tomaiko has been appointed as Vice President of its Construction Division. Tomaiko, who joined Zuma in 2021, is a construction and union payroll and tax expert with extensive experience supporting companies in these industries. In his new role, Tomaiko will oversee Zuma's fast-growing national Construction Division, reporting to the company's CEO, Chris Caputo.  
"David has a proven track record of successfully helping our construction and union clients fulfill their very complex reporting needs and subcontractor payroll requirements," said Caputo. "His technical and industry expertise is a tremendous asset to our firm and clients. We are committed to investing in our people and technology to further grow our Construction Division under David's leadership."
Over the past two years, Zuma's Construction Division has doubled its client base and added several new offerings. Zuma's expert team and advanced union payroll and reporting technology applications ensure accurate job costing, payroll reports, and tax filings, enabling construction companies to efficiently and effectively invoice their clients. The company also helps construction companies remediate invoices that have been deemed inaccurate or incomplete.
"Our team is focused on helping our clients get paid quickly without having to worry about manually submitting and resubmitting dozens of complicated reports," said Tomaiko. "By taking away the time-consuming process of reporting, our construction clients can focus on more important parts of their business. I am looking forward to working closely with Chris as we expand nationally and support construction and union customers across the country."
About Zuma Payroll & Processing
Founded in 2006, Zuma provides critical payroll and human capital solutions to growing businesses. Zuma combines innovative, cloud-based technology and personalized service to help companies better manage their operations. In addition to payroll processing, Zuma delivers comprehensive human capital management (HCM) solutions that integrate business functions into a single source. In 2022, Zuma was honored with a Bethpage Best of Long Island award. Zuma is based in Melville, NY. For more information, please visit https://www.zumapay.com/.
Media Contact:
Sivan Ron
LoBello Communications
Sivan@LoBelloCommunications.com