Just some of the features you'll find in iSolved Time
iSolved Time is an optional component of our core iSolved HCM solution, providing you with a feature-rich time-tracking application all from the same access point as your payroll, HR and benefits.
Move beyond outdated time sheets and spreadsheets to process employee time and attendance with proficiency.
Graphical calendar look
Can drag, move, copy and change time
Easy allocation of hours
Daily, weekly or pay period view
Single screen views to see totals and earning codes
Punch alert error
Drop-downs that tie to labor fields
Easy management of comp time
Simple, fast and efficient
Only set up data once as everything is from one data source
Set up geofencing locations to monitor where employees are clocking in and out
See earnings codes on check stubs
Rule-driven approach to earning codes (don't have to maintain earning code mapping from time to payroll)
Easy payroll closing at the click of a button in just minutes
Jump to any time period
Time and attendance features provide powerful tools to collect, manage, and process your time data.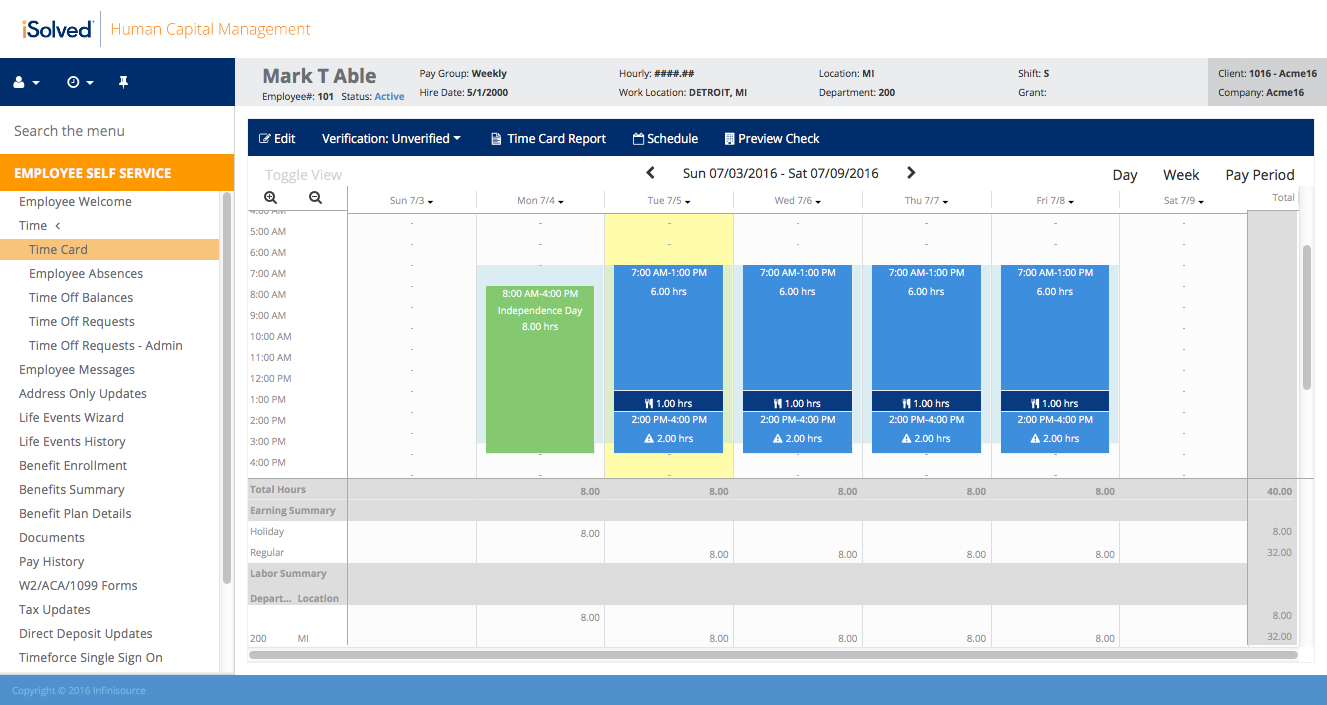 See scheduled and worked time at a glance with the time card view.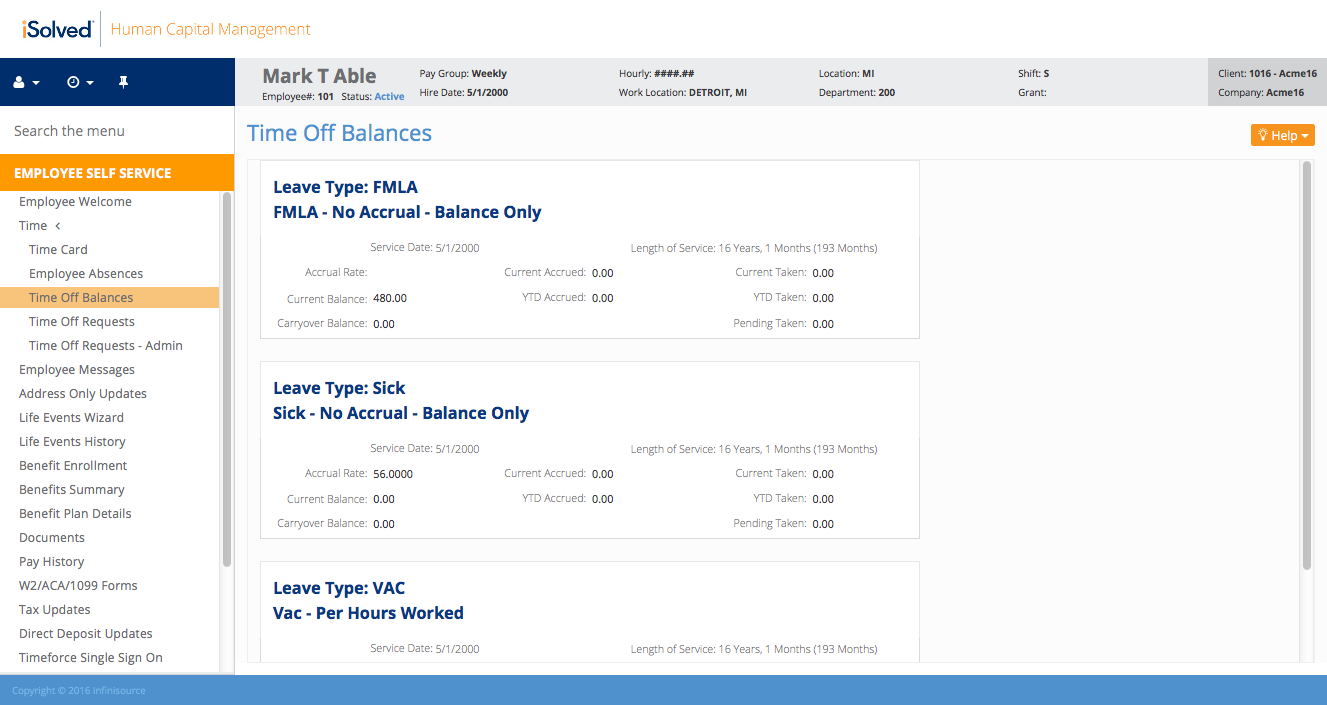 Employees can see their PTO and accrual balances.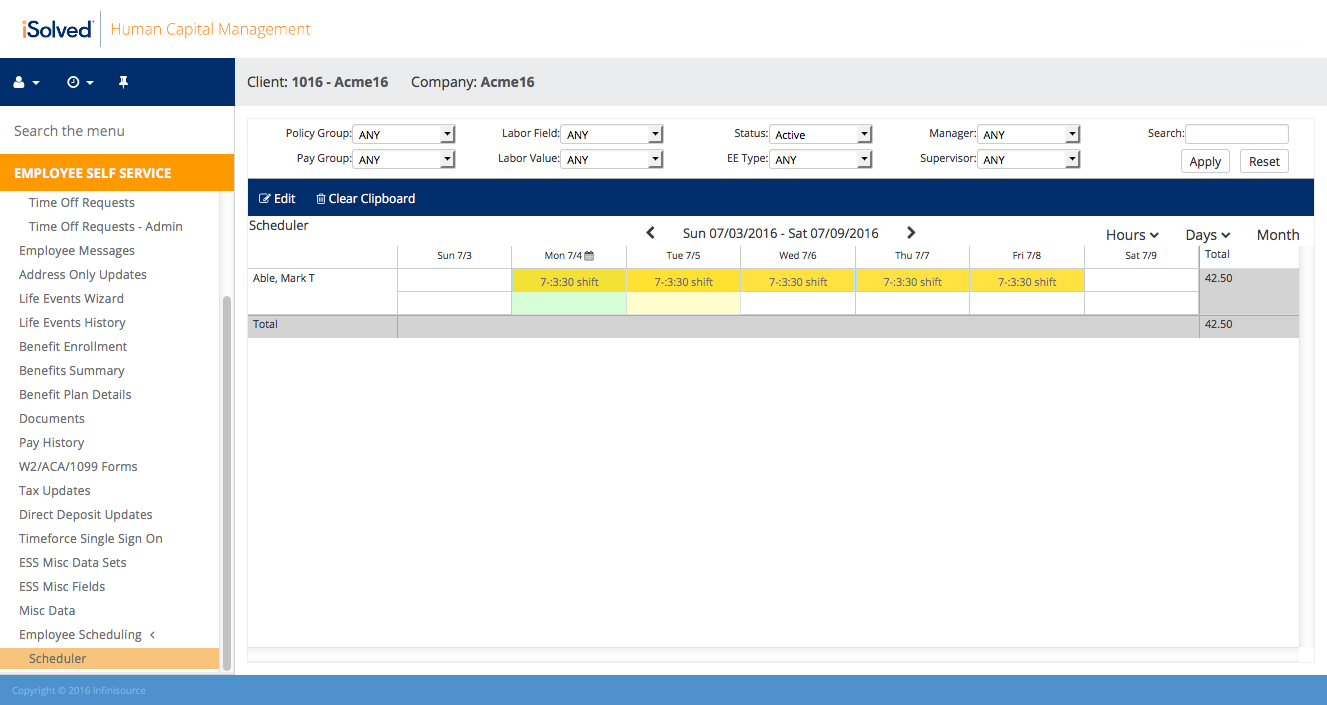 The scheduler makes creating employee schedules painless.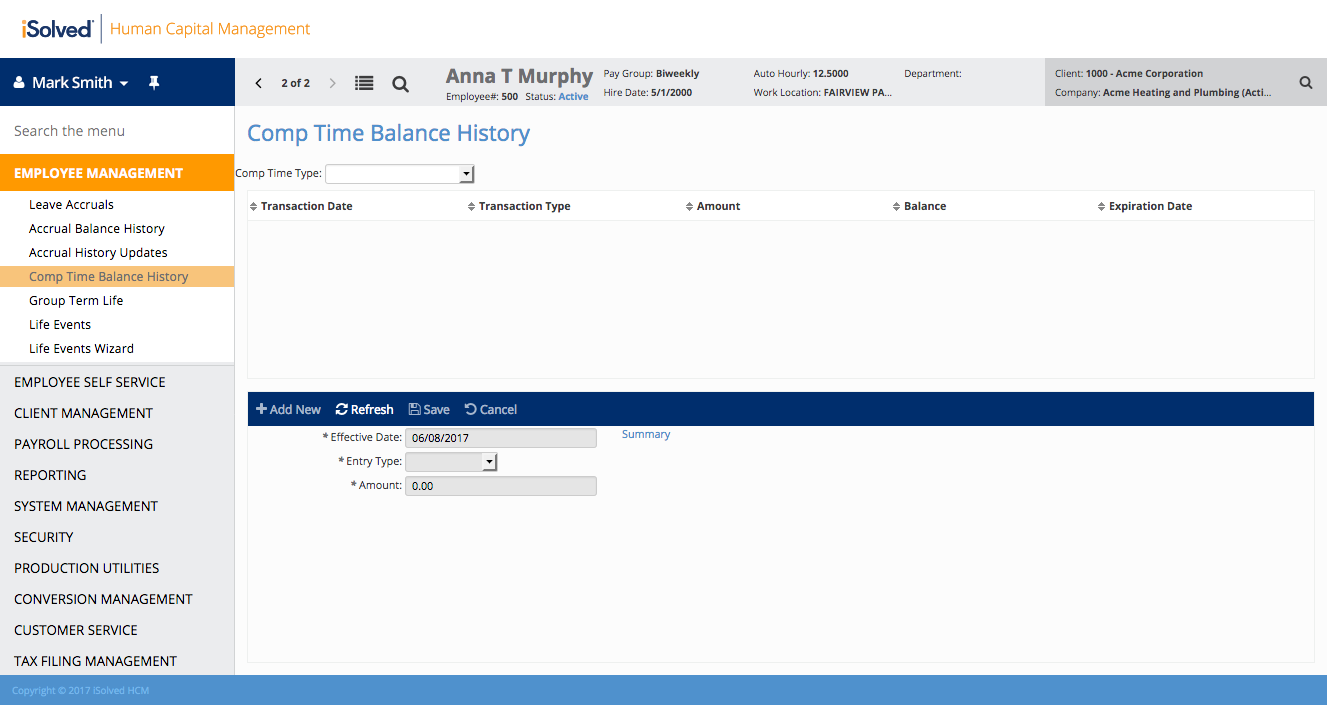 Easy management of comp time to provide paid time off instead of overtime pay.
Take away the headache of scheduling and attendance tracking with iSolved!
Tracking time and attendance is never a fun job for anyone, and it can take up a lot of time if you are using manual processes that are outdated and inefficient. As your workforce grows, you may end up spending hours each day creating employee schedules, entering hours worked, and calculating payroll based on each employee's individual pay rate.
Then there are the inevitable inaccuracies of manual time and attendance tracking, which can take your company out of compliance in a number of areas, from the Affordable Care Act (ACA) and benefits offerings to payroll. The penalties for non-compliance are stiff, and this can occur even through honest mistakes. Employees who add up their own hours could make errors in addition or knowingly alter their hours worked to receive a bigger paycheck or qualify for benefits.
Take away the headache by adding Scheduling & Attendance, a new module that works seamlessly with iSolved Time.
Time Clocks
Our time clocks will help you track employee time in any business environment.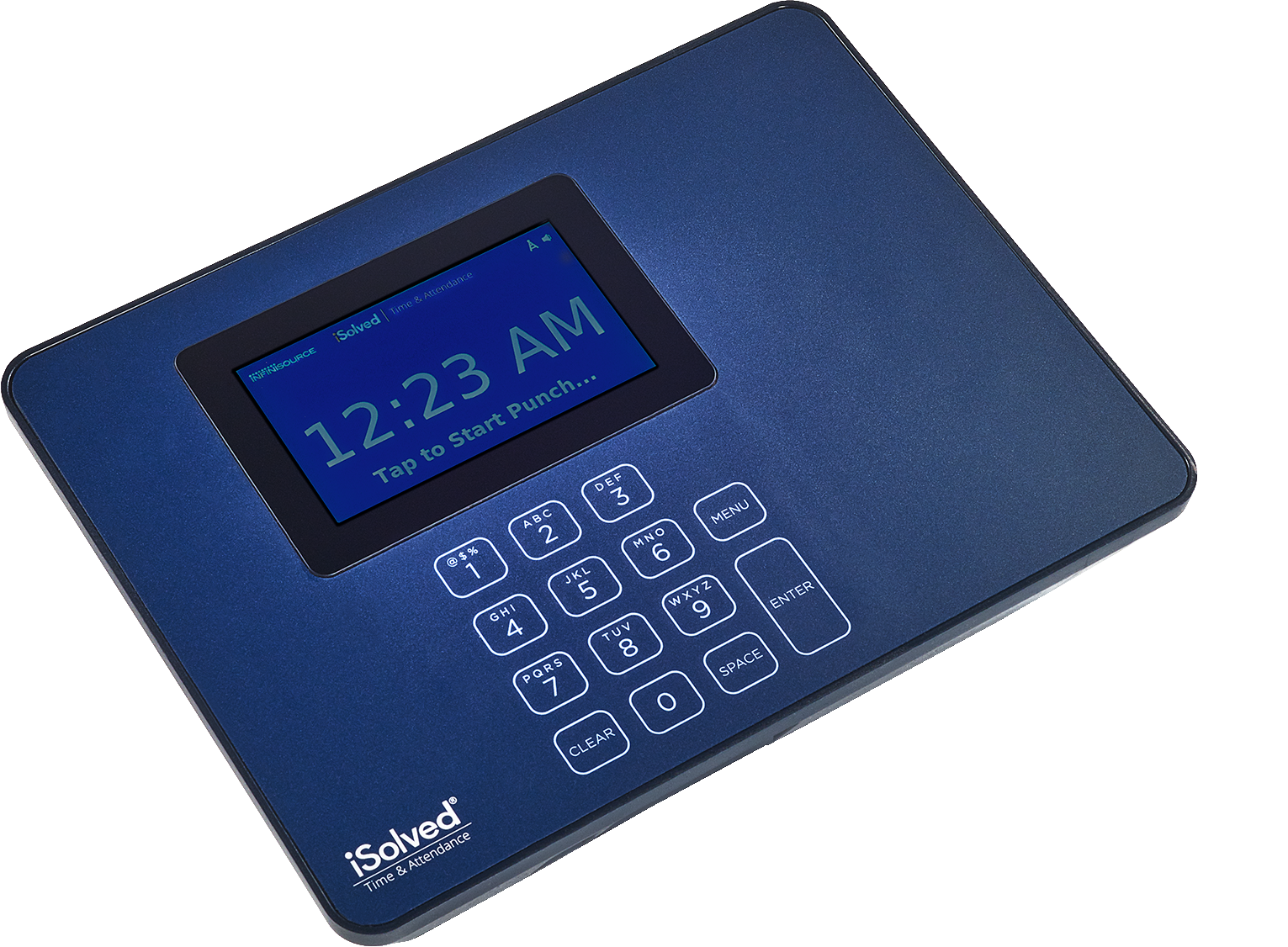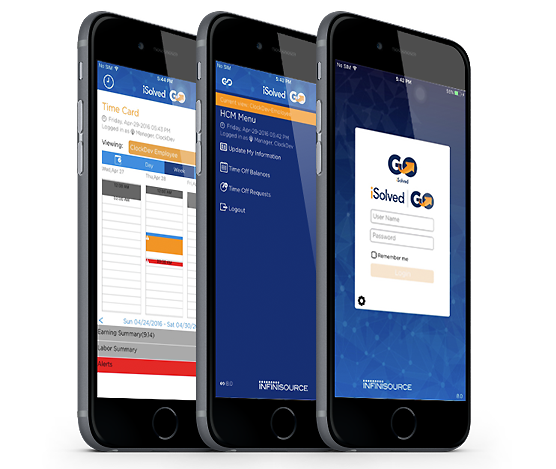 Mobile Time Tracking
Use our mobile app, iSolved Go, to connect to iSolved and manage your time from your mobile device. Available for iOS and Android, iSolved Go ensures convenient time tracking for your mobile employees and accurate records for your business needs.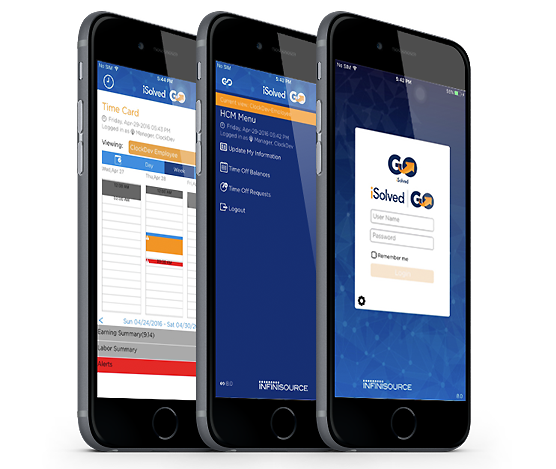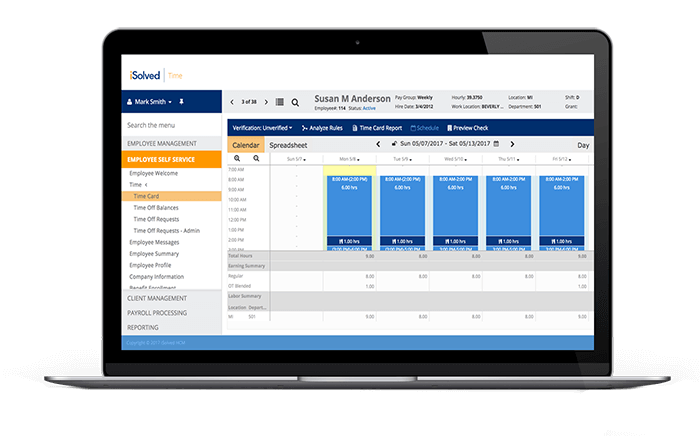 Online Time Tracking (Self Service)
iSolved Time provides powerful time tracking and attendance management capabilities, right through your web browser. Our Self-Service Time Tracking is incredibly easy to use for everyone - no special training is needed.